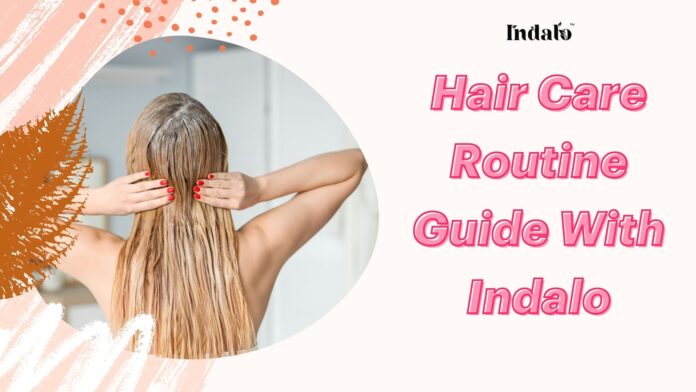 Last Updated on February 17, 2023 by admin
Beautiful, long, and shiny hair is always attractive and gives a mighty good impression. It is important to look after them and make them attractive by taking care daily; remember to be gentle while brushing your hair and try to go natural always without any heating exposure. Hair gives us a medium to express ourselves, so it is good to have a simple hair care routine guide. Step by step you can build it up and have other products and nutrition required as per your hair needs. Haircare is necessary as the first impression is the last so, let your pretty healthy locks do their magic.
Sometimes it is good to just have a simple and regular hair care routine, not much to do. What you eat during the day and how your lifestyle is, plays a significant role in the quality of your hair. It is a known fact that natural products are gentler on the hair which makes the hair shiny and silky.
Hair Care Suggestions
Firstly, here are some quick tips to obey for ordinary hair care.
Brush your hair from tips to roots as it helps to avoid split ends, breakage, and brittle hair strands.
Sleep on satin or silk pillow covers with hair secured in a silk scrunchie to decrease friction and frizz.
Brushing your hair ensures blood flow and oils are dragged along the hair shaft. This would not block the pores.
Try to utilize most of the natural hair-care products with plant extracts, cold-pressed oils, henna, and plant or seed oils for intense nourishment.
Do try out diverse types of hair masks or DIY them according to your hair type and requirement.
Lastly, do the regular trimming of the ends, to get rid of split ends, which will make your hair look healthier.
Hair Care Routine Guide
Follow the following simple hair care routine guide with hair care products to have healthy and glossy locks.
Masking is essential for hair
Indalo's Natural Hair Treatment Mask is free from dangerous chemicals like Peroxide, PPD, Paraben, and Ammonia. It's purely organically manufactured from the extracts like Hibiscus, Shikakai, Cassia, Bhringraj, and Gulab. So that it can cater to all the different kinds of hair. The hair pack is natural, vegan, cruelty-free, and halal-certified. This product has anti-inflammatory and anti-bacterial properties, which rejuvenates the hair and promotes hair growth. It keeps the scalp squeaky clean following the elimination of bacteria and debris. It naturally conditions and eradicates excessive oils and dead skin cells from the scalp. The nourishment for the roots is crucial once in a while to be able to have nutrition for them.
Remember to wash your hair before the use of this mask. Further, your hair mustn't be completely dry so, semi pat dry your hair. The consistency of the pack should be well maintained on the thicker side. The paste should be applied alright from the tip of the roots to the lengths of your hair till the ends. Then rinse it off nicely with normal water, followed by your routine shampooing and conditioning.
Following it up by shampooing
Indalo's banana shampoo for hair is appropriate for nourishing dry hair while cleansing them. The blend of banana, hibiscus, vitamin E, and shea butter is divine for dry hair. It is free from harmful chemicals like Peroxide, PPD, Paraben, and Ammonia. The shampoo is natural, vegan, cruelty-free, and halal-certified. All these ingredients have moisturizing properties.
The Banana Hibiscus shampoo controls hair fall and dandruff. It strengthens the roots of the hair and gives a luscious finish. Follow it up with Banana Hibiscus Conditioner, which additionally helps to retain the nutrition and lock in the moisture.
Following it up by conditioning
After shampooing, it's now time for conditioner. Indalo's Banana Hibiscus Conditioner performs better when paired with banana shampoo for hair. It's a deep moisturizing and conditioning conditioner for dry and frizzy hair with the identical benefits of the shampoo but in a conditioner structure. It is also free from dangerous chemicals like Peroxide, PPD, Paraben, and Ammonia. The shampoo is natural, vegan, cruelty-free, and halal-certified. It enables them to lock and safeguard them from harsh surroundings. It nourishes the strands from within and thus gives the frizzy hair texture a makeover. It brings out the shine in your hair and supplies nourishment.
Conditioner should be applied from the length to the ends of the hair. Rinse it out with cold water and plop your hair. Finally, it aids to lock up all the nourishment gathered by the hair from the hair mask by plugging it up from the exterior of the hair shaft as a light coating of conditioner.
This simple three-step hair care routine guide with Indalo's absolutely purified and wholesome hair care products with Natural Indian Herbs will shower your locks with so much love and silkiness that you will prefer to lay on nature's lap and spend eternity in the comfiness.
Apart from this if you are interested to know about What is Transgender Hair Restoration, and What are its Benefits? then visit our Health category.