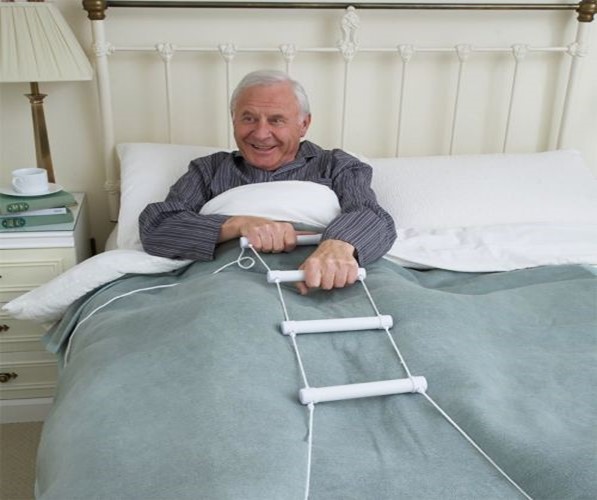 Last Updated on February 21, 2023 by admin
Bed support and safety are a must for the elderly. It is because they find it difficult to balance their bodies and so need extra support to help properly balance their bodies and also help maintain a good posture. This improves not only their energy but also their blood circulation reducing the chances of pain.
A bed is a comfortable place, but to make it more comfortable for the elderly or a baby, you need to add a few accessories to help them feel more safe and comfortable there. Keep reading further to know more about bed accessories that help with support and safety.
1. Bed Support:
Bed support is a frame system that helps support the mattress from sagging and bowing down. It helps the heads of the user to hold it up at the perimeter and also provides extra support at the centre of the bed. It consists of more rails that horizontally run across the bed. The elderly are mostly bedridden, so they spend most of their time in bed, which constantly leads to the bending of beds. As we have different sized beds, varying from a king-size bed to a queen-size bed, you need to support it to make it more stabilized. It also works well with a full-size bed. It helps prevent the shifting and twisting of the mattress, which can cause squeaking sounds, irritating the elderly.
2. Bed Rails:
Bed rails are a necessity for the elderly. These are detachable aids, which you can attach when required and remove when you no longer need them. These come in a variety of forms, from portable bed rails to fold-down bed rails. You need to decide which one to buy for your elders depending on their medical condition.
Bed rails help the elderly in turning around and repositioning in bed. It also helps provide additional support as a grip to hold on to when they get in and out of bed. It provides security and an extra level of comfort that is needed. Eventually, it helps reduce the number of falls and injuries. And with grab rails, it becomes easy to transport the elderly in and out of their bed, as it helps provide easy access to personal items like books, medicines, and other bed controls as well.
3. Back Rest:
Elderly people need support when they sit to support their spinal cord. Because it becomes difficult for their back to sit against a straight wall and maintain the correct posture, a backrest is required.
Backrests provide extra back and pelvis support to elderly people. The best part about it is that it is adjustable, so you can set it up to an ideal angle for your elders. But while purchasing it, you should consider the weight of the elderly into consideration. So, it does not break or fold, which might lead to small accidents hurting the elderly. As a caregiver, you also need to ensure that the backrests are strong and durable enough to last long and are comfortable for your elders.
4. Bed Cot Side:
A bed cot side is used for babies. It is made in a way that a baby can sleep peacefully without getting disturbed. It cuts off the chances of the baby rolling off the bed and slipping down. It also allows the baby to get proper sleep, and its sleeping training starts right from that young age. It allows the parents of the baby to do their work without focusing on the baby as it offers the baby a good sleep. So, the parents of the baby need not waste their time and attention only focusing on the baby. They can do their chores while the baby is peacefully sleeping in its own bed.
5. Comfort Wedges:
Comfort wedges work best for those suffering from back pain; allowing the user to be in the zero position also helps improve their sleep and also helps relax their knees as well. Not only that, it helps ease snoring and optimal lounging. It reduces the swelling in the feet and legs of the elderly, which is a very common problem at their age. It helps you position better while you sleep, and it reduces heartburn which is a major discomfort while sleeping for elderly people.
Conclusion:
Many bed accessories that help your elderly are available in the market. You need to figure out which all things will work for them, given their condition. There are different types of wedges, backrests, and rails. So, you need to figure out all these things for your elderly making their bed a more comfortable place to rest and relax for a while. Because elderly people spend most of their time in bed, you need to ensure that it is a comfortable and secure place to enjoy themselves all day long. Not only the elderly but also small kids that just sleep all day long also need a proper comfortable bed for themselves. So, if you are a caretaker, best of luck with taking care of your elderly or smaller kids; we hope we were able to help you out to gain some information about it.
Summary:
There are many bed accessories available in the market that your eldelry needs. Keep reading further to know more about these accessories, and figure it out yourself, to what all does your baby and your elderly require.
Apart from this if you are interested to know about How To Open a Bed and Breakfast then visit our Business Real Estate category.