Last Updated on February 17, 2023 by admin
Whether you have an old or new Mac, there will come a time when programs stop responding, starting up takes longer than brewing coffee, and movies stutter. Something is wrong, and you wake up every morning thinking, "Why, oh why, is my Mac operating slowly?

Duplicate Files Fixer is the perfect solution that removes duplicate photos and duplicate files. It employs a complex algorithm to eliminate duplicates, making it not just a duplicate file finder but also one of the finest duplicate photo finders. A full evaluation of Duplicate Files Fixer will go through its features, advantages, downsides, and how it works.
Starting Price: $30.64 one-time payment
Download form here
Free Trial: A free trial is available.
The Duplicate Files Fixer is a tool that can easily locate and eliminate duplicate files! The Duplicate Files Fixer allows you to easily and rapidly search for and delete identical duplicates of files. It searches for duplicate file contents independently of file name or format. The preview list shows you information about duplicate files that you may quickly delete. You can remove the files by selecting the auto-mark option. You may also remove files one by one. Before you delete duplicate files, look over the list of them. Delete unnecessary duplicate files in Dropbox to save up precious cloud space. You will be surprised at how much storage space you have regained after the removal. All of your data may not be saved on your device. Don't be concerned. The tool also analyzes external devices! Identify and remove duplicate files, photos, and other items from Google Drive.
Pros & Cons of Duplicate Files Fixer
| | |
| --- | --- |
| Pros | Cons |
| Quick scanning speed | The free version only allows you to delete 15 files. |
| Auto-marking capability | |
| Alter the selection assistant's priorities. | |
| Scan Google Drive & Dropbox. | |
| You may examine photographs before removing them by using the preview tool. | |
| Regardless of format, duplicate photos are scanned. | |
| External devices such as external hard discs and pen drives are scanned. | |
The interface of Duplicate Files Fixer
The UI of the Duplicate Files Fixer is plain and uncomplicated. You won't have any trouble figuring out how to use it. On the top, you can view your scan history (the last time you did a scan), the number of duplicates discovered, and the amount of space saved.
Begin by dragging and dropping folders into the tool or clicking the Add Folder button. Then you choose Scan mode or Scan computer if you're scanning data on your PC. Otherwise, scan their stuff with Scan Dropbox / Scan Google Drive. Once you've chosen your option, click the Scan for Duplicates button at the bottom.
File Duplication Fixer features two panels, one of which allows you to add and even exclude files and directories. You may scan for duplicate photos in the selected files or directories. The actual action takes place on the next screen.
You can remove photos by selecting them here. You can use Automark or adjust the priorities of the Pick Assistant to be more accurate with your selection. The preview option on the right-hand pane first displays how much space you will be able to reclaim after deleting the selected files, and if you pick a file, a preview of that file appears.
Finally, click the "Delete Mark" button at the bottom after finishing.
Read More: How Do I Delete Duplicate Photos from an SD Card in Windows 10?
Features of the Duplicate Files Fixer
Identifying and deleting duplicate files
Duplicates, like garbage files, are space wasters. However, with Duplicate Files Fixer, you can detect and delete all forms of duplicate files. This allows you to better use the space that duplicates photos, documents, music, videos, and other file formats. Furthermore, it allows you to evaluate scan findings and delete files you don't wish to preserve, making it the finest duplicate file fixer.
Auto-Mark Duplicates in 1-Click
Never be concerned about wasting time. This professional duplicate file finder tool has an Auto-Mark option for selecting duplicates and moving them to the Trash. This duplicate remover is the easiest and fastest way to remove unnecessary duplicate data and maintain your Mac duplicate-free. Lots of duplicates may be removed with a few clicks using the Auto-Mark tool.
Advanced Scan Settings
Once installed, let's choose Scan Mode. You may use it to scan the whole hard disk or Google Drive. This assists in locating duplicates saved on multiple storage devices and freeing up space. The Duplicate Files Fixer also removes the need to download files stored in the cloud, allowing you to search Google Drive immediately, organize data, and delete duplicates that are eating up unnecessary storage space on the cloud.
Scan All the Types of Duplicates
Duplicate Items Fixer instantly examines your Mac for duplicate photos, audio, movies, documents, archives, and other files. This duplicate file finder discovers duplicate files and helps you recover important disc space on your Mac in just a few clicks. Furthermore, the Duplicate Files Fixer examines files by content rather than by name by default, allowing the user to modify the order in which scan results are shown.
Folders' exclusion is supported.
You may not want to scan all of your folders for duplicates. This program allows you to exclude files you do not want to be scanned. This also speeds up your scanning.
Preview scan results
After the scan, you may examine a preview of duplicate files, photographs, music, and video files before deleting them.
It supports external storage.
The Duplicate Files Fixer includes everything you need to locate and remove duplicate files. You may also scan external media with it.
How to use Duplicate Files Fixer on Mac?
The Duplicate Files Fixer may be downloaded from the App Store.
The app icon will appear in the dock once the program has been downloaded.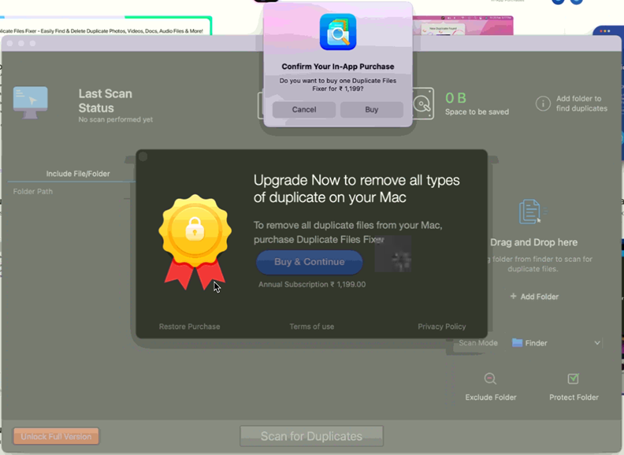 To use the product, double-click it.
You may now begin scanning the Mac for duplicate data with the Duplicate Files Fixer.
Mark those duplicate files and press the delete button to remove all your duplicate files.
Conclusion:
When it comes to eliminating duplicate files, Duplicate Files Fixer is an excellent solution for the price. It has a good UI, fantastic functionality, regular upgrades, and, to top it all off, good customer service. Give it a go, and let us know whether it lives up to your expectations in the comments section.
Apart from this, if you are interested to know about How to Extract Contacts From Outlook OST Files Easily? then visit our Tech category.