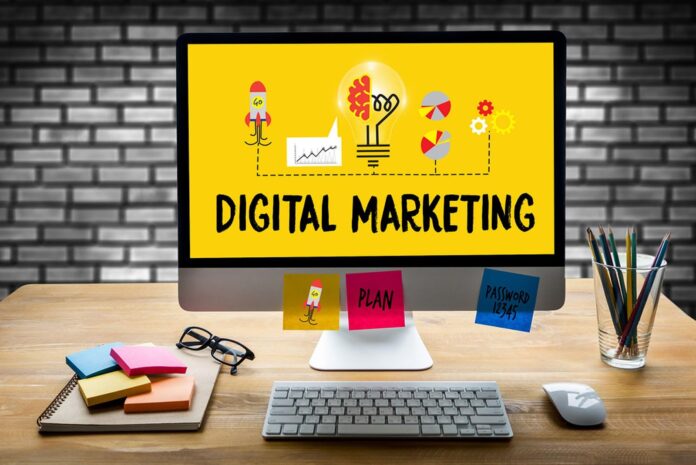 Last Updated on March 3, 2023 by admin
With most customers shopping online, businesses quickly followed suit and promoted their services on the internet. But in today's competitive business world, promoting your brand online is no longer enough. Most business owners practice SEO optimization, hiring a web design company to improve their marketing. However, many overlook creating an overall robust and efficient digital marketing strategy.
A solid digital marketing strategy lets you plan the best advertising for your business online, outlining your final results and methods used to attain them. Its objective remains the same as your conventional marketing strategy—improved client loyalty, increased sales, and getting new customers!
But online marketing is easier to manage and cheaper, allowing you to spend less and gain more.
Here are five keys to creating a long-term successful digital marketing plan for the best results.
Set Your Business Goals
Behind every successful digital marketing plan are a set of goals. It gives you insight into what aspects you need to prioritize. And as the business owner, you have complete control over your brand's goals.
So, it's essential to know what exactly you're trying to accomplish for your company long-term.
Here are some goals worth following that may help you develop a successful marketing plan for the long run.
Increase Social Media Followers
Monitoring the number of followers of your brand is a simple yet efficient way of determining the current public's interest and perception of your business. Either way, make sure to evaluate the rate of increase of your followers—and always aim high! 
Spread Brand Awareness
How frequently do you tell people to "Google it" whenever they ask you a question or want them to run a quick search on the internet?
This is the level of brand awareness you should aim for, as it eventually makes your company a regular verb used in daily speech. And though ideal, it can be challenging to attain, especially with the massive competition online.  
Luckily, there are many methods for assessing brand awareness to help you kickstart your digital marketing strategy. One of the simplest methods you can use is Google Trends. It can help you see the number of people searching for your business, letting you understand what potential leads are looking for. 
SEO Optimization
Various things can influence a business's SEO score. For instance, the higher quality backlinks you use, the more reliable your website gets—earning you a spot on the search engine results.
Unfortunately, many digital marketing strategies include SEO optimization, so you'll likely need to do different tasks to boost your SEO score. But on the upside, you get to see the evolution of your SEO score and make necessary adjustments to your strategy in real-time.
Determine Who You Want to Reach
After setting your goals, you need to know who you need to reach. Knowing who your potential customers are essential if you're looking to save and make the most out of your resources. Generally, the more you know about your target audience, the better your digital marketing strategy.
Moreover, it'll help you allocate your marketing materials better, attracting leads regardless of how big or small your budget is. Overall, this is a more efficient and less expensive strategy than risking it all and only hoping for the best outcome.
It's best to determine who is and isn't buying your services and goods. After all, the demographics of your present customers may not be the same as the ones you're trying to attract with your marketing strategy.
So, if you're looking to reach new audiences and stretch your reach, ensure the new direction you're trying won't repel your existing ones.
Define Buyer's Personas
Personas refer to comprehensive descriptions of your target audiences, covering specific information such as the following:
Age
Wealth or social class position
Hobbies
Family situation
Occupation
These and other factors influencing how customers spend their money are part of the buyer's "persona." It'll help you determine what leads you must focus on to maximize profit.
Unfortunately, business owners often overlook this element due to the broad and general description of target demographics. But trust me, this is worth your time and money. You can make the process shorter and more accessible by using available information, like customer names, address databases, or Google Analytics Audience Reports.
Assess Your Budget and Resources
As tempting as it is to splurge your cash on a reliable web design company or other services, remember your ultimate goal is to make a profit. That's why you need to assess and allocate your funds carefully.
But as crucial as budget and resources are, many business owners don't give them the needed attention. However, remember that planning and setting a reasonable budget are essential. Generally, these two will influence how you distribute everything and what you can do with your digital marketing campaign.
Luckily, digital marketing is cheaper than offline marketing, allowing you to be more creative and not lose profit from it.
Take Advantage of Social Media
One of the most efficient marketing platforms for business owners is social media. Your digital marketing strategy's success or failure typically determines how efficiently you use social media as your platform.
But keep in mind that it may also serve as a support for other elements of digital marketing. After all, social media provides different features to boost your online presence.
SEO + Social Media
Aside from exploring the different platforms, SEO is another way of improving your business's website and content to rank higher in search engines such as Google. Generally, the higher your page is, the more prospects you can reach. Plus, it keeps your current customers up-to-date with your content.
In short, social media provides valuable data and insights you can use to boost your website's SEO score. So, you can see why social media and SEO practices work excellently together for digital marketing.
Conclusion
An efficient digital marketing strategy will be the foundation of any successful business in today's digitally-inclined society. And while it is cheaper than conventional methods, it's more reliable and efficient. The only issue is that it needs a more careful approach when planning and performing.
But with the help of a reliable web design company and the five steps listed, you should be able to create a successful digital marketing plan in no time.
Apart from this if you are interested to know about How Can You Promote Your Business Through Social Media Marketing? then visit our Digital Marketing category.