Last Updated on March 2, 2023 by admin
In the past few years, social media platforms transformed from just communication platforms to a must-have tool for marketing. Social media marketing reformed traditional marketing; messaging to potential clientele and communication was only one way.
Communication is two-way here on social media, where the customers and the business can interact directly. Both sides can ask questions, solve problems and provide information.
Before knowing how to promote your business on social media, you should adequately know the technicalities of each social media site to optimize them to your requirement. Launching a social media marketing campaign will follow you naturally.
Here are a few steps to utilize social media and plan effective marketing strategies for your business. If you carefully follow these steps then it would be easier for you to plan an effective marketing strategy for your business.
1. Choose The Correct Platform
There is an end number of social media platforms for you to utilize. And depending on that, you should create your profile where you know your target audience will stumble upon your profile.
To find this out, you should consider researching to determine the volume of your target audience and the appropriate platform based on that.
Read More: 8 Importance of Digital Marketing Skills
2. Create A Social Calendar
If you are scrambling at the last moment to post something online, it will result in low-quality content. Moreover, lacking organizational skills can lead to repeated posts and a stagnant presence on the platform. Hence, to avoid such things, try creating a social calendar.
Social calendars help you maintain your social media postings and reach your goals and strategies regarding them. Plan your posts thoroughly through a social calendar, plan your posts thoroughly and use appropriate captions, links, and hashtags.
3. Initiate Engagement
Social media should never be used as a tool for one-way communication; it was invented as a tool for two-way communication. And this doesn't apply only to those who use this for fun; businesses on social media also need to be interactive.
You need to upload exciting posts to initiate interaction among your audience base. You can also interact with your followers by posting content they might find interesting, asking them questions, or even reposting their posts and commenting on them.
4. No Overpromotion
Businesses fall into an apparent social media trap too often to over-promote themselves. So don't just go on promoting your business on your every post.
You should use the one-in-six rule, where you upload one post promoting yourself and the rest six uploading exciting content for your audience to see.
If you are marketing for lawyers, then other than only promoting, maybe upload exciting facts and videos about being a lawyer.
5. Upload Videos
On any social media platform, video content always generates more popularity than images or texts. This is because it helps you grab your audience's attention.
So, besides posting pictures and written articles, you should consider posting informative and interesting articles.
6. Address Problems
Even though you get a lot of positive reactions and comments on social media marketing, there are bound to be negative ones as well. For example, people might leave a negative comment, be argumentative, or even lash out at your business.
You need to properly monitor the negative comments on your posts, scan through the mentions of your company, and catch the issues before they escalate.
Once you identify a problem, engage with the concerned individual and try to solve the issue or publicly apologize if it's needed. You can even message them directly and apologize.
7. Build A Community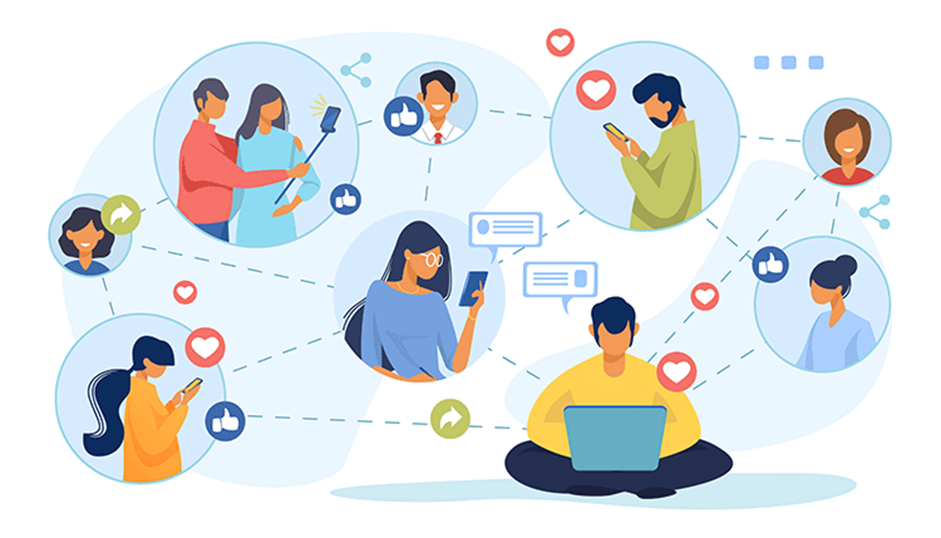 Instead of running after getting more and more followers, you should focus more on finding the right customers who would be interested in your brand and be loyal and engaging.
When you build a community for your brand, the people following you become your advocates. They will organically help you grow to promote your marketing business and engage with your business profile.
You can interact with them by reposting their content and mentioning them on your profile. This will help you to build a relationship with your customers as well.
8. Provide Value
The most important thing you can do with your posts on social media is to provide something of value, something that your followers might find valuable. Creating something that your followers find helpful to them is crucial.
It could be things like fun facts, something that will make them laugh, cry or entertain or is beneficial to them.
This aspect of social media attracts your target customers to your account. It makes people want to follow you on social media platforms. If you become an expert in this, you will be one step closer to achieving success in your social media marketing campaign.
Conclusion
Social media marketing is the future of marketing worldwide. Therefore, knowing how to launch social media marketing strategy campaigns and how to promote your business on these social media platforms will be a requirement in the future.
Knowing how to promote your business on social media is not difficult, but you just need to give a bit of your time to research and maintain your social media profiles.
Apart from this if you are interested to know about How To Boost Your Business With Instagram And Facebook? then visit our Lifestyle category.