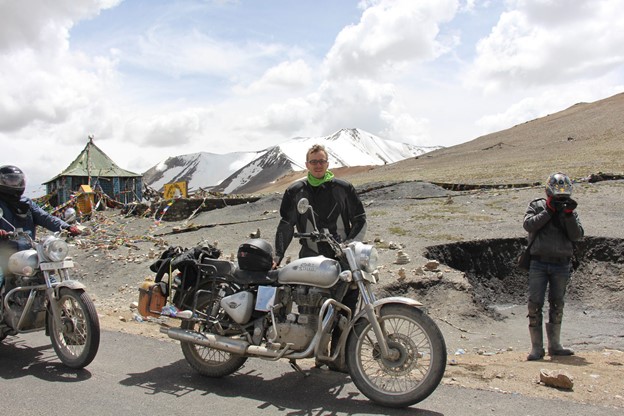 Last Updated on July 8, 2023 by admin
Overview
If your bike is your first love and companion in your life, then you must take your beauty out of the bustling city, into the mountains, and into the lush greenery of some of India's richest trails and mountain ranges. Considered one of the toughest routes for motorcyclists to attempt, ManaliLeh Ladakh is also known to be the most rewarding, which includes a beautiful valley at Manali and a magnificent peak at Leh.
Your Leh Ladakh bike trip package is incomplete without keeping these tips in mind, as it will make your trip a success with the right key factors in mind. Here are some tips you should focus on before planning your bike trip to Leh Ladakh.
Choose the right bike
You'll be riding the toughest roads, you can't afford to compromise on the quality of the bike, so choose one wisely. Pay close attention to the features of the bike and make sure it is in good condition. We recommend Royal Enfield 350C or An Enfield Bullet. Otherwise, pulsar bikes can also be chosen.
Bike Serviced
Remember that you are on a long journey, and if you are not sure that your bike is sufficiently repaired to ensure a smooth ride, have it repaired as soon as possible. First, make sure all the parts are working well to face a journey full of different obstacles, bumpy paths and much more.
Things you need to keep handy and easily accessible
Keep your first aid kit handy as they say safety always comes first which should include patches, antiseptic, Crocin for fever and bodily pains and Avomine for sickness. huge impact on your body, so keeping your first aid on hand should always be your top priority.
Deciding the route
Although there are two different routes to Ladakh, one via Manali and the other via Srinagar and although the former is preferred due to the dangerous terrain, it is advisable to take the latter route that passes through Rohtang La, Sarchi, and Upshi. Remember to decide the route according to your abilities and comfort.
Don't fall victim to acute altitude sickness
You can get rid of it too, but reaching higher altitudes will eventually make you a victim of altitude sickness. If you don't have strong immunity, your body may not be able to withstand climate change. Instead, get a full health checkup before you travel. People with high blood pressure, heart disease, and asthma problems should refrain from this trip. Symptoms include headache, fatigue, upset stomach, and dizziness, so stay hydrated and take breaks in between.
Choose the right season
You should not embark on this trip every time you feel that the roads are blocked due to unpredictable weather changes and become extremely dangerous roads for any transport. The best driving season is from mid-May to mid-October, as Srinagar and Manali roads are open from mid-May.
Food supplies
You should never rely on street vendors for essential food while traveling, there may be times when there will be nothing on how to supply you with food, so you should basically keep extra foods like chips, cookies, glucose, and other small foods. Keep these foodstuffs in an easily accessible backpack pocket, as these items should be easily accessible when you are hungry.
Breaks ARE IMPORTANT
You need to take breaks and stops to make your journey successful. You cannot afford to rush and deteriorate your body's capabilities to complete the journey. Do not overwork or indulge in any type of physical activity, which can put unnecessary strain on your body
Carry Extra Petrol
10 to 20 liters of extra petrol is what we recommend because the journey is quite long and searching for petrol along the way is definitely not a wise option to seek. Gas stations are quite a distance from Ladakh, so make sure your bike's tanks are properly filled to ensure a hassle-free ride.
DO NOT consume antidepressants or alcohol
This is a big NO to the consumption of any type of alcohol or antidepressants while traveling, rather in the evening, you should avoid smoking and chewing tobacco. When traveling at higher altitudes, respiratory problems can occur, making it difficult to complete the trip.
Spare parts you need to carry
A spare bike key, spare bungee cords, spare fuse, extra chain lock, spare clutch, and chain lube, if the inner tube, a spare inner tube, engine oil to fill up, and a spare headlight bulb.
Carry Cash
You cannot rely on your cards as there are places where you may not easily find an ATM, and cards may not be accepted at all local shops and street vendors.
Protective and safety equipment
Remember to prepare your safety equipment for travel helmets, knee and elbow pads, waterproof gloves, appropriate riding shoes and vest, reflective clothing, and sunglasses to protect your eyes from UV rays.
Telephone Connectivity
Only postpaid sim connections from other states will work in Ladakh. Even among these, only BSNL is present beyond Leh.
Essential documents
Don't forget to bring your original driver's license and PUC, as well as your bicycle documents, valid insurance and registration.
You should avoid sleeping at higher altitudes
You should absolutely avoid sleeping at higher altitudes because the oxygen levels in the air decrease, which affects the functioning of our brain. It is recommended that after spending a day at a higher altitude, move to a lower altitude in the evening
Read More: Top 10 things to do in Uttarakhand