Last Updated on March 1, 2023 by admin
Introduction – Layered Necklaces
A layered necklace has a regal aura. The charm of layered gold necklace sets lies in the intricate styling that accompanies it. Indian fashion lovers can trace back necklace layering as an old art form gracing jewelry boxes over many generations. Although layering has been used over the years, jewelry stacking has recently gained more popularity. Check out the latest layered gold necklace sets to look different and trendy.
A layered necklace consists of multiple chains worn together, which can be joined together by a single clasp. Alternately, they can be unique necklaces strung together or a set of necklaces that complement the overall piece. The individual necklaces can be chunky or simple but look versatile when they come together as a layered necklace set. Layered gold necklace sets can complement various Indian outfits, and they are available in multiple styles and designs worn with lehengas, plain sarees, or embellished ones. You can explore some of the best layered gold sets online, select the work, and cut as per the occasion.
How to style Layered Gold Necklace Sets
Choose the pieces to achieve a flawless look with your layered gold necklace sets. Since the necklaces are worn together, select necklaces that are compatible and blend well. An essential criterion while pairing different necklaces is the individual length of each piece, and the different layers bring versatility to accomplish the perfect finish. Hence, it is crucial to pick suitable lengths to highlight the individual necklaces and avoid crowding them together.
Tips for Layering Necklaces: How to Achieve a Sleek and Bold Look
You can decide how many necklaces you want to layer. You can minimize the number of chains and restrict them to a few for a sleek look. Multiple necklaces can also be paired for a bold statement. Three is considered the ideal number if you are a novice experimenting with layering. Choosing an odd number of necklaces while layering will help you accomplish creative pairings and establish a delicate balance between the different pieces.
Ensure that the necklaces stay intact by maintaining enough space between the chains. To avoid a bland look, you can wear simple necklaces without pendants closer together. However, space them out if the individual pieces are complex to prevent a clunky look. Adequate spacing will ensure a sophisticated look, and you can showcase each piece in the process. Create dazzling looks by experimenting with different lengths.
Layering Necklaces like a Pro
You can mix metals for an alluring look of your favorite silver and gold necklaces together. A centerpiece that is supported by other necklaces is also a good option. For example, choose a pearl necklace as the statement piece and surround it with others. A textured look is intriguing, and you can achieve it by coupling a chunky necklace with thinner chains around it.
You can mix and match by experimenting with beaded necklaces or tribal pieces. A pop of color can enhance the entire look and complement your outfit. Changing the pendants of your necklace is also a good idea to switch the look with minimal effort. If you want a quick fix, pre-designed jewelry sets are available.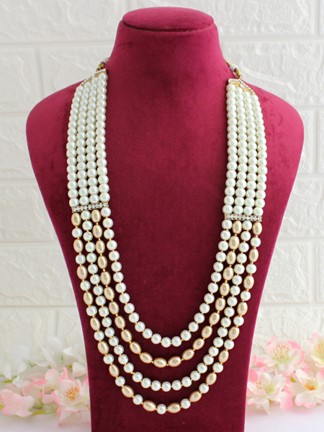 What to wear with Layered Necklace Sets
Create new looks with layered necklace sets with precious and traditional jewelry. The neckline of your outfits will play a crucial role while selecting the perfect layered set to complement them. A collar necklace is an ideal choice for a sweetheart neckline. Opt for choker necklaces with off-shoulder blouses. If you wear a v-neck blouse, a choker necklace with a dangling motif will look good. Layered necklace sets look elegant with fully covered blouses.
Besides the neckline, consider the color of your outfit while matching them with layered necklace sets. Choose the metals in your necklace to avoid any clash with the hues of your outfit. You can use contrasting metals with different materials and textures to spice up simpler outfits. A heavy outfit with detailing will benefit from a more cohesive and classy look. Stack up necklaces to create unique looks and combinations and look glamorous with beautiful layered gold necklace sets from India Trend.
Buy the Best Layered Gold Sets Online
India Trend has an exhaustive collection of layered gold necklace sets. These exquisite pieces lend a traditional look to weddings and festive occasions. Opt for a layered Kundan necklace for a rich bridal look by complementing them with earrings, maang tikka, and bangles. Polki necklaces look beautiful with intricate detailing and stunning Indian cuts and patterns. You can choose a design with Meenakari work with ethnic wear. A pearl necklace can lend a touch of tradition with a contemporary appeal for a fusion look with gowns and lehengas. Explore colors, textures, lengths, and designs to pick the best-layered gold sets online. Shop conveniently from the comfort of your home with trusted, authentic designs from India Trend.
Conclusion
In conclusion, layered gold necklace sets have become a popular trend in Indian fashion, and for a good reason. They add an element of regal charm to any outfit and can be styled in numerous ways to achieve a perfect finish. By following some simple guidelines, you can create a flawless look with layered necklaces and experiment with different lengths, metals, and textures to achieve a personalized and unique look.
Whether you are attending a wedding or a festive occasion, a layered gold necklace set from India Trend is an excellent investment that will add elegance and sophistication to your outfit. Shop conveniently online and explore the vast collection of authentic and trusted designs from India Trend to find the perfect layered gold set that complements your style.
Apart from that, if you want to know about 7 Inexpensive Gold Coins, then please visit our Business Category.