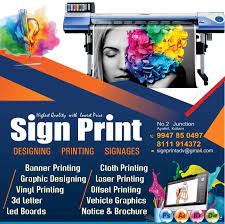 Last Updated on February 22, 2023 by admin
Business owners often make the mistake of thinking that any sign is better than putting up no sign. You should fear going bold when it comes to sign printing. If your ads are not attractive enough, the ads can get lost in the clutter.
Experienced advertisers know what can make an advertisement a hit or a miss. With some careful planning and applying the right principles, you can plan out the signs. It will take you one step closer to success.
But designing the best custom signs for printing can be a little tricky. This is the reason we are going to provide you with the right tips and tricks that will help in creating the best signs.
Keep Things Simple
Even though it is a cliché, it is true. You need to keep things simple. It can make your advertisements more effective and successful.
A custom sign printing with minimalist signs is often better at-
Grabbing attention
Holding attention
Creating an impression
Being memorable
At times, your attempt to make the advertising outcome exciting can make the ad a little complicated. Surely, you don't want your people to be distracted by unnecessary details on a frame sign. If you put too many details, you can miss out on the point of the sign.
You want your audience to notice what your custom sign printing is about-
Put Quality Over Quantity: Rather than spending time on different elements, focus on just a few and present them well. Some good features can have a great impact than a mishmash of the ones that are poorly designed. Make each detail stand out.
Bare Necessities: When you custom a frame signs using the design tool available at PrintPapa's site for easy customization and send them out for printing, you need to ensure that every element is necessary. Learn if your sign can work without it. Analyzing every part of the ad is essential and has to be done continuously. This will help with unnecessary unclutter.
Be Wise: Simple ads tend to stand out as they are smart. You can do a lot by including as little as possible.
So, when you are getting frame signs, you need to be creative.
Use the Right Color
Don't underestimate the importance of colorin a frame sign printing. It can have a considerable effect on the moods and responses of the customers. In fact, there are theories when it comes to using colors for advertising.
You have to choose a color palette that will match the sign. For instance, green is the go-to color for healthy foods.
But do not use colors that are very close to each other. Writing can easily be lost if you choose the wrong color for the background. Hence, make sure you are choosing the right color for creating a contrast. In case your brand is using some colors, make sure that you focus on them.
Make It Easy to Read
You might have come across signs that are virtually impossible to read. Regardless of how hard you try, if the customers are unable to make out the words, the frame signs are going to be of no help. It can be highly frustrating for the audience. So, your sign can just turn out to be a marketing disaster.
Illegality is one of the primary mistakes that marketers tend to make. If your customers find it difficult to read, they are just going to skip it. There are various factors that influence if or not your customers can read the sign.
The typeface has to be big enough for people to read. People shouldn't have to at squint what you have printed on the custom frame.
Make sure you are using a professional font for the sign. Don't use a font that is too ornamental. Focus on finding a font that is legible and simple.
You have to focus on the number of words that you are using. If there are too many words on the frame printing, people might find it difficult to read. So, make sure that the ad words are as concise as possible.
The color of the writing has to stand out against the background.
Final Thoughts
When you opt for custom sign printing, you should think big. If you are able to design it properly, you will be able to send a message to your potential customers. It will give your brand the exposure that it is looking for. Avoid including too much information on the sign as it might be difficult for your customers to grab what you have to say.
Apart from this if you are interested to know about A Guide to Financing Business Franchising then visit our Business category.