Last Updated on August 24, 2023 by
With a little glam and a little state-of-the-art technology, Fitbit smartwatches are perhaps one of the most popular wearable brands in the world right now. Boasting a product catalogue of user-friendly and seamlessly efficient devices, Fitbit smartwatches are designed for everyone. From a basic activity tracker like the Fitbit Luxe to an affordable version like the Fitbit versa Lite, the brand features devices made for everyone.
If you are looking to buy a wearable for yourself, here is a compiled list of the top 10 Fitbit smartwatches that will help you in boosting your workout blues:
Workout in beast mode with this Fitbit Versa 3 smartwatch that has got all the features to keep you fit and healthy. This chic tech piece comes with an in-built GPS to track your pace and distance. With more than 20 objective-based exercise modes to keep you motivated, your fitness regime gets complimented with a buzz every time you achieve a workout goal.
The hustle mode is always on with Fitbit smartwatches and the legacy continues with the Sense. This one lives up to its name by monitoring and providing assessments on the temperature of your skin every night and sleeping patterns. It helps in planning and personalizing your daily routine accordingly. The striking AMOLED display allows you to check notifications for calls, texts and apps like Facebook and Gmail at your fingertips.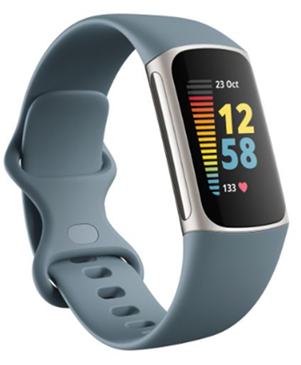 Does a draining smartwatch interrupt your workouts? Train like an athlete with Fitbit smartwatches and set your fitness targets on point. The Charge 5 from Fitbit helps you in ensuring the same with its blood oxygen saturation or SpO2 monitoring, heart rate monitoring, sleep score and breathing rate features. Besides, this exquisite fitness piece can be your perfect outdoor companion owing to its 50-meter water resistance and durable build.
Outfitted with Stress management tools, Guided Breathing, Mindful Minutes, Heart Rate Variability, Breathing Rate and Sleep Stages, the "Luxe" range of Fitbit smartwatches can keep you fit all the time. This elegant fitness tracker is graced with a vibrant AMOLED display that offers you an intuitive user experience while browsing through call, text and other smartphone notifications.
Fitbit smartwatches are designed to be your companion, your assistant and your fitness coach. The Versa Lite edition keeps tabs on your health status and fitness goals, providing you with real-time reminders and notifications even when you are asleep. With a single-button design and Corning Gorilla Glass 3-protected touchscreen, the Versa Lite packs all health features and sensors into a slim and compact device.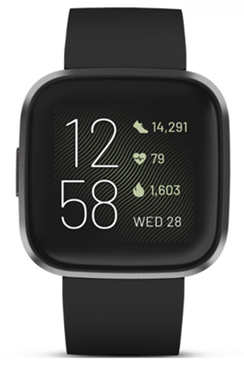 Keeping aside the standard fitness and health tracking, Fitbit smartwatches have revolutionized delivering voice commands with Amazon Alexa. The digital assistant makes Versa 2 a great companion for workout enthusiasts. It also gives you weather reports before the next workout and allows you to train your heart out while listening to great music via Spotify, Pandora, or other music apps.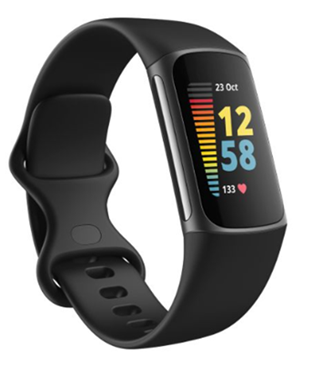 Get deeper insights into your sleep, exercise and wellness patterns with the Charge 5 fitness tracker by Fitbit smartwatches. This advanced chic wearable makes it a breeze to comprehend what fitness data actually means. Not only that, it also suggests actionable tips for enhancing your physical and mental well-being. The improved ECG and EDA scan apps help you make more informed decisions regarding your health and fitness.
The Fitbit Versa 3 helps you in sleeping peacefully with sleep monitoring while the heart rate monitor assesses your heart health while you are resting or exercising. An ideal watch for keeping track of trends, the Versa 3 by Fitbit smartwatches features Guided Breathing Sessions that allow you to find a bit of peace in your busy work schedule.
Want a taste of Fitbit smartwatches at an affordable price without gutting their functionality? The Fitbit Versa Lite is the perfect answer to your need as it comes with a sleek design and an amplified 1000-unit display. It allows you to automatically track select sports & workouts with smart tracking features and use female health tracking in the Fitbit app to log periods, symptoms and more.

The Luxe is one of the prettiest Fitbit smartwatches ever released with a great emphasis on aesthetics. It comes with a connected GPS and all other standard Fitbit features such as 20 different sports modes, tracking distance, steps and calories throughout the day.
Fitbit smartwatches motivate people by assessing their progress toward their fitness and workout goals. These wearables help in monitoring and tracking heart rate, GPS tracking while working out, storing and listening to live music, receiving call and text notifications, and more. There are new updates in Fitbit smartwatches with the latest functions such as mindfulness apps and Guided Breathing Exercises. With Fitbit smartwatches, you can have a more detailed understanding of your fitness progress and workout goals over time.
Apart from that if you want to know about "Mobile Health Apps, Do they Put Users Privacy at Risk?" then please visit our Tech Category.