Last Updated on December 15, 2022 by Umer Malik
Use canonical tags
While talking about SEO secrets, conical tags are the first thing we need to discuss. If you seriously want to rank on Google then your first priority should be to avoid duplicate content. Duplicate content is a big turn off to Google and you should always avoid it.
Most of the time, an e-commerce site with multiple pages and product categories face from duplicate content issue. In such a case, you can use canonical tags.
Canonical tags play an important role when you are replicating blog post from one website to another. This tag tells the search engine that a particular web-page is a copy of another and not to index it or take it into consideration for ranking.
Here's how canonical tags look like:
Use KDR
Keywords are the backbone of every SEO strategy. But do you know how to use and target keywords properly?
When you target keywords for your SEO or content strategy, you must follow the rule of the keyword golden ratio.
According to the formula of keyword golden ratio:
The number of Google results that have the keyword phrase in the title divided by the monthly search volume, where the search volume is less than 250.
If the KGR is less than .25, then you should rank in the top 50 as soon as Google discovers the page.
If the KGR is between .25 and 1, then you should rank in the top 100 within a month or two.
So, the next time you target keywords make sure to use the KGR formula.
Include image alt text
It is a known fact that images and visual content do have a positive impact on user experiences. Apart from this, images can also help you in improving the rankings on SERP and increasing organic traffic.
If you properly optimize your image, then you can surely get a good amount of referral traffic from Google.
One of my keyword Cheap Indian hostings is ranking at top spot in image search results.
Here's the proof.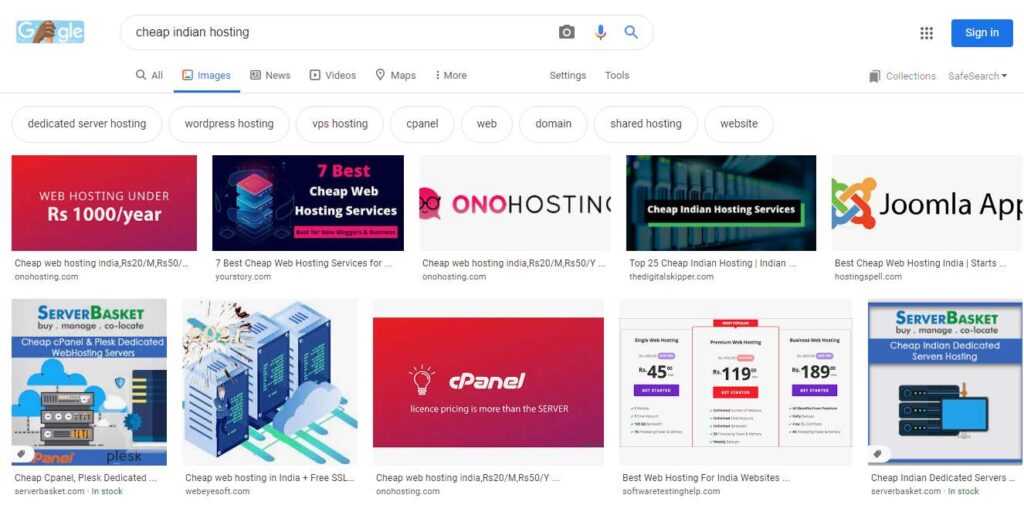 So, if you want the same result then follow the following steps:
Include your targeted keywords in image alt tags.
Compress all your images.
Include keywords in an image file, description and caption as well.
Check your 404 error on site
It is always a good practice to link to other relevant websites and resources within your niche. Sometimes the pages you are linking to are no longer available or might have deleted.
This might cause a 404 error on-site which looks like this.
Such errors can negatively affect your SERP rankings hence pages with 404 errors must be re-directed to another live page with similar content.
You can also create a custom 404 error page in order to make good user experiences.
Keep eye on the Google search console
This is the most common mistake that I find among newbie bloggers and SEO experts. Google search console is the heart and soul of your website. It gives you important data points on website errors, ranking keywords, CTRs, impressions and a lot more.
Hence, you must keep a constant eye on your Google search console account.
Make sure there are zero coverage issues showing in your search console. If it is showing errors then try to fix those errors by reading the guidelines properly.
URL
One of the most basic yet critical aspects of SEO is URLs. A good and friendly URL can help you in improving your sites ranking on Google. URLs can also be tracked in tools like Google Analytics for data monitoring purpose.
Your URL should be short, simple and sweet. While creating URLs, you avoid the following things:
Underscores.
Capital letters.
Special characters.
Here is the example for URLs;
For Blog:
https://www.domain.com/blog-postname.
Go mobile
Due to the growth of mobile phone users, Google is focusing more on satisfying the mobile users query. That's why it is giving priority in ranking those websites that are mobile responsive.
If your website is not responsive or mobile friendly, it won't rank on Google. Hence, make sure that your website is responsive on all devices including mobile, laptop and computer screens.
Site speed matters
If you seriously want to get a good ranking on Google, then focus on site speed. Google has officially made it clear that site speed is a ranking for mobile searches. Although this will be taken into consideration as a small factor but later on it might have a significant impact on SERP rankings.
So if you have not optimized the speed of your website then now it's the time to do it.
Identify what is working what is not
While planning and executing SEO strategy, you need to know what is working for you and not. You'll come to know this only when you regularly audit your site.
Apart from this site auditing will also help you in identifying site health and errors. According to results you take relevant steps to diagnose your website and improve its health.
Invest in SEO
When you start with SEO, you must think of it as a long-term investment. Many newbie bloggers and SEO experts don't invest time and money in SEO and regret later.
You need to understand that SEO is getting dynamic, and without investment you won't get results.
So, make investment in following areas of SEO:
Content.
Building links.
Website designing.
These are the three core areas where you need to invest maximum of your time and money.
Have patients and keep going
If you think that SEO is going to give you results from day one, then you should leave it right now. SEO is not a paid media like Google Adwords. It is earned media and takes time to deliver results.
When I started my blog in June 2020, I used to struggle with getting organic traffic.
After 6 months of hard work and consistent effort, I started getting some amount of traction.
Here is the snapshot of my analytics:
See the long spike in march.
Yes, even you can do this easily. You just need to work smart while doing keyword research and work hard for link-building and content creation.
Combine these two and no one can stop from get success in SEO.
Target Long tail keywords
Long tail keywords works like charm. These are the set of 4-5 words keywords with good search volume and less competition. By targeting such keywords, you can rank your website on top of Google in less time.
Following are the example of long tail keywords:
Bluefin paddle board reviews
Serenelie padddle board reviews
Free in paddle board reviews
Goplus paddle board reviews and so on
Apart from this, if you are interested to know about 10 Tips For A Successful SEO Campaign then visit our Business category.