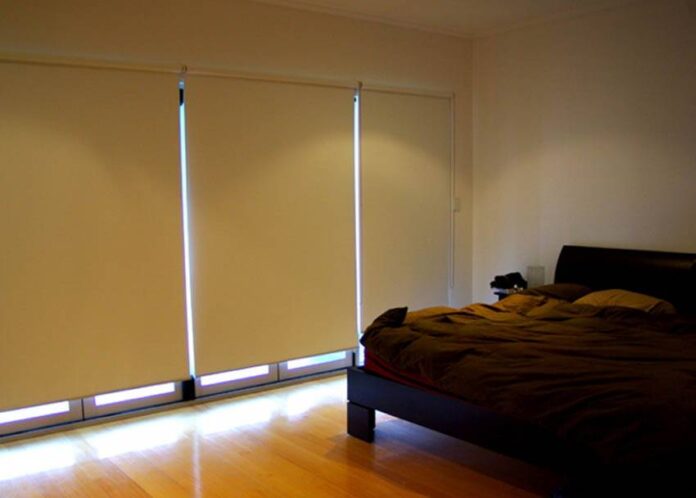 Last Updated on February 15, 2023 by admin
Roller blinds are one of the most dynamic and popular choices for window coverings. They are available in various designs, fabrics, and colors, which can elevate the aesthetics of every space, be it at the home, office, or other business premises. If you are looking for window coverings, then continue reading to know why roller blinds should be your ideal choice.
Affordable 
Roller blinds are an affordable option and budget-friendly as well. Compared with curtains or other shades, you can find these at a reasonable price in the market. The reason behind this is that roller shades use less fabric than drapes or curtains. However, the best thing about them is the wide range of patterns, colors, and designs they offer. So, you get the luxury of choosing the most suitable design for your space at an affordable rate.
Low Maintenance 
Roller blinds are designed not to accumulate a lot of dust and, thus, are easy to clean. You can use a damp cloth to wipe out the dust from the blades, unlike curtains/drapes that need deep cleaning in a washing machine quite frequently. Low maintenance makes roller shades a popular choice for window coverings. They are extremely versatile and are best for bedroom, bathroom, kitchen, and living room windows.
Blocks Heat and Save Energy
Roller blinds are perfect window blinds, especially during the hot summer months. They help block excessive heat from the sun and harmful UV rays coming from the outside. It helps in keeping the interior space cooler, which eventually helps you save on your electricity consumption and energy bills.
High Durability
Roller blinds are highly durable window blinds as they are made of good fabric and sturdy blades that guarantee long-lasting support. They also let you make the most of your space by fitting neatly into a window and adjusting quickly. You can easily fit blinds in your house by yourself as it does not require a lot of work and also saves time and money.
Healthy Options/Safe to Use
Many roller blind fabrics now have Greenguard accreditation, which means that they are suitable for use in schools and other sensitive areas. So, if you wish to buy window coverings for your house/office, then you can check for green guard-accredited roller shades.
Cordless and Automated Options
Gone are the days of traditional chain control on roller blinds, as now cordless and automated options are available that ensure ease of control. So, you can opt for roller blinds with chain-free options, which you can operate using a remote or mobile device. It is even possible to operate and control the shades from any location, thereby ensuring high levels of convenience.
High Privacy Control
Roller shades offer high levels of privacy by drastically reducing glare and, at the same time, maintaining your view. For improving your nighttime privacy or blocking out the light in your private spaces like bedrooms and bathrooms, then you can use dual roller blinds. The best treatment would be to combine a sunscreen roller blind with a blackout blind to experience complete light control and privacy.
Also, since there are many material options available, you can select a roller shade material according to your privacy needs. If you wish to allow plenty of light to come in and enjoy the outside view while at the same time blocking the private inside view from the outside, then go for a translucent material. However, if you don't want any light to enter the room and enjoy a dark environment while sleeping in the daytime, then a blackout shade should be your preferred choice.
Takes Fewer Space
Drapes and curtains take up a lot of space and sometimes don't even fit correctly on windows, thereby making roller shades a more viable and practical solution.
Adds to the Aesthetics 
Good fabric and good fit roller blind can elevate the look of any room. You can choose the most suitable design out of all the available options that are in sync with your room decor.  
We hope that the above-mentioned benefits of roller blinds will help you in making the right choice when buying window blinds for your spaces.
Conclusion
In conclusion, roller blinds are a practical and stylish option for any home or office space. With their sleek design and wide range of colors and materials, roller blinds offer a versatile and customizable window treatment solution. They provide excellent light control, privacy, and energy efficiency, making them an ideal choice for any room.
Roller blinds are also easy to install, operate, and maintain, requiring minimal effort and time. Whether you're looking to enhance your home decor, increase your energy savings, or simply enjoy greater convenience and functionality, roller blinds are an excellent option. By considering the many advantages of roller blinds, you can make an informed decision and choose a window treatment solution that meets your needs and preferences.
Apart from that, if you want to know about Vertical Blinds then visit our Home Improvement category.