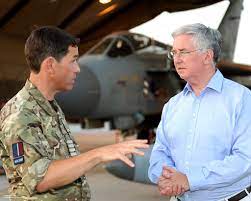 Last Updated on September 18, 2022 by
Do you evaluate your abilities based on your academic performance? If you answered "yes," you should know that there is no link between your academic performance and your ability to pass the defence exams. Defence exams are essentially competitive exams held by the armed forces to choose gallant young men and women. No one can stop you from passing the exam if you have the desire to join India's armed services. Everyone possesses a distinct collection of characteristics that help them stand out from the crowd. Your academic grades will only be used as a ticket to register for the defence exams. Keep in mind that your tenacious hard work, consistent practise, and unwavering commitment may help you reap the benefits of achievement.
Were you a typical student in high school or college? If you answered "yes," don't panic; by following a disciplined pattern, you may easily pass the defence examinations. With a good mindset, begin preparing for the defence. Which exam will you begin studying for? Is this the NDA test? If you answered yes, you should begin preparing for the test with the aid of a fantastic college that offers NDA coaching in Chandigarh. Certainly, a coaching centre may assist applicants in passing the defence tests in one sitting. You can use the suggestions in this article to help you perform better on the exam.
Here are some helpful hints for passing the defence tests for typical students:
Develop A Positive Mindset
First and foremost, dispel the idea that only top students from high school or college are eligible to take the defence test. Develop a positive mindset in yourself before you begin studying for the exam.Never take detractors' statements at face value. Instead, remember why you started studying for the exam and what you'll get if you pass it. Also, never be scared to put in long hours. Your dedication and effort may enable you to obtain a respectable post in the armed forces.
Create A Successful Plan
Before you begin test preparation, you must devise a sound approach. Remember that developing a strategy and putting it into action are two distinct things. If you've devised a strategy, stick to it religiously. Your perseverance may aid you in passing the exam. keep the below suggestions in mind:
Give each exam subject the same amount of weight.
Never study for lengthy periods of time.
Every two hours, take a little rest.
Set attainable goals.
Every question type should be practised.
By taking practise exams, you can ace any sort of question. It's a good idea to take some online practise exams. Taking practise exams might help you improve your speed and accuracy. You'll also be able to evaluate yourself and make changes. So, strive to finish your exam syllabus on time and begin taking practise exams. There are several websites that provide free practise exams. You may download and solve mock tests from there.
Candidates who are studying for the AFCAT exam might benefit from taking practice exams. Are you preparing to take the AFCAT exam? If you said yes, you should start studying for the test with the help of AFCAT coaching.
Examine Some Of The Prior Year's Exam Questions
You can forecast the exam's difficulty level by looking at previous year's question papers. By studying prior year's papers, you may learn the pattern of the defence tests. So, before taking the test, attempt to study through at least 10 previous year's question papers. You may also solve the past year's problems to get extra practise. It has the potential to spare you from receiving low marks on the exam. It can also help you boost your overall exam grades.
Improve Your Ability To Concentrate
You must focus your entire attention on studying for the exam. to overcome any distractions you may face while studying for the exam. So, what is the most likely source of distraction for you? Is it your smartphone that's causing the problem? If that's the case, keep your phone out of your study space. You should also select a study location in your house where you can focus effortlessly throughout your study hours. If you don't have a dedicated study space at home, you can go to a library for test preparation. When you study at a library, you can easily focus.
Maintaining Your Emotional And Physical Health
While studying for the defence tests, it is critical to maintain mental and physical fitness. To stay physically and mentally fit while studying for the exam, use the following advice:
Begin your day with a strong workout. It won't take you more than 30 minutes.
Breakfast should be high in protein. Tea or coffee should not be had first thing in the morning. It might have a negative impact on your liver. Alternatively, you may have a milkshake.
At least 8 glasses of water should be consumed each day. Every day, get at least 7 hours of sleep.
To maintain mental wellness, meditate for at least 10 minutes each day.
Maintain A Positive Attitude And Stay Focused
Preparing for a defence test is a difficult endeavour since you must master a vast amount of exam material. You must keep yourself motivated during the test preparation time in order to eliminate negative thoughts. Here are some of the most wonderful techniques to keep your chin up while studying for the exam:
Read motivational books.
I'm now watching some funny programmes.
Getting to know successful individuals
Surround yourself with individuals who are joyful.
Seek assistance from a coaching centre.
Some candidates are capable of studying for the test on their own. However, certain candidates require more assistance. A tutoring institute can assist students in perfecting their test preparation. So, how are you getting ready for the CDS exam? If that's the case, get in touch with a respected CDS coaching.
Conclusion
If pupils are ready to work hard, they can easily pass the defence exams. They can use the suggestions above to prepare for the exam flawlessly.
A part from this if you are interested to know about Detailed Overview of DP 100 Certification Exams visit our Education category