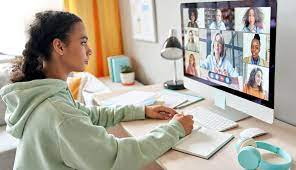 Last Updated on February 28, 2023 by admin
Financial fraud has grown in today's online age as well. The public suffers billion-dollar losses as a result of these frauds every year. Identity fraud is among the most crimes. A trustworthy verification technique is essential to prevent identity theft and other financial crimes. A service called "video verification" uses pictures and multimedia to demonstrate that a client is who they say they are. Online video verification is an efficient and straightforward way for a system to validate a user's identity.
Computers, tablets, and smartphones all include high-resolution cameras that are useful for precise and user-friendly person identification. Many businesses use their websites to gather identity verification by scanning photos. While some others verify the identification of a person through customer service representatives from a verification service. They speak with their clients face-to-face or through a video call while they are at home.
An Overview of Online Video Verification
In today's digital world, options for working remotely internationally are becoming more and more crucial. Without important documents to verify your identity, customers cannot walk through a local bank branch, government institution, or corporate office. KYC regulations also require many institutions to verify the legitimacy of their customers, requiring them to take strict measures. Use a video KYC solution to help organizations authenticate and onboard new clients by reviewing their important documents while being able to see a face. The online video verification method has a lot of applications. Some of them are as follows:
Checks for Online Video Verification:
In addition to providing proof of residence (such as a utility bill or bank statement), please also submit identity documents.
Send the processing company the initial forms and the signed, scanned, and printed proofs.
Users must verify each of these documents before scheduling an online video verification with a reputable company.
The employee will inquire about the user's account information while speaking with them in order to confirm their identity.
The staff member will ask the customer to hold these papers up to the camera to compare them to the ones supplied through email.
Comparisons between the electronic copies will validate the client's reliability. After that, the company will be in position to open the user's account.
Modes of Online Video Verification
The following list of three basic types of online video verification includes:
1. Customer Video Assistance
Agents use a web application in real-time to provide video assistance and technology communication to the customer.
2. Customers record
Customers record or take videos of themselves holding their documents to verify their legitimacy, including carrying out required liveness tests.
3. Engagement of Agents
By using video identification technology to confirm a customer's authenticity, agents interact with customers in an indirect way. Regardless of the procedure that is best for a client, the combination of humans and technology will make anyone feel at ease. Customers can use AI software to enhance the proofreading procedure with video verification. It guarantees that technological development will correct mistakes made by people.
The Advantages of Online Video Verification
Previously, it was common to meet new customers physically, check their documents, and verify their authenticity through online video verification. However, the video KYC procedure offers the convenience of an internet connection to both businesses and customers. This enables them to finish this process without commuting or dealing with any other issues. For both clients and businesses, online video verification is advantageous. The following are the advantages:
For Consumers
Customers benefit from understanding that the institution they want to onboard with is genuinely worried about their safety, even when multiple verification measures help businesses in the short term. While account registration is typically connected with confirmation, a business could later require a customer's identity to be verified. Going through online video verification shows that the customer is connected to the business and is aware that it uses a variety of security measures to protect against identity theft.
For Businesses
The best aspects of both types of company verification processes are combined when human interaction and AI technologies are used. By presenting these documents in front of the camera, an expert verifies that they are speaking with another live person.
A cutting-edge AI process scans and compares these papers with electronic copies to speed up the long verification process.
In Summation
A significant number of customers are onboard remotely through online video verification as a proactively compliant KYC process. The technologies that use AI provide seamless operation and quick and easy customer verification.
Banks, the real estate sector, and other industries all use the KYC video identification technique extensively. In addition to being incredibly accurate, it facilitates the development of stronger ties with foreign demographic groups. The Video KYC solution also helps a business or website gain more customers.
Apart from this, if you are interested to know about Custom Cosmetic Boxes, then visit our Business category.