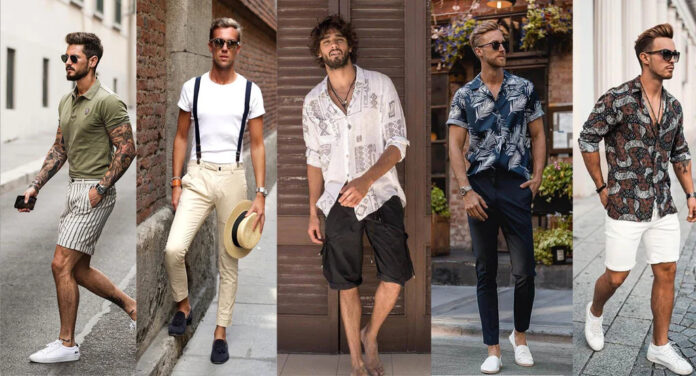 Last Updated on February 6, 2023 by admin
Every man wants his style intact regardless of the season. Read this article to learn about Men's fashion trends for this summer. So, whether it's winter, spring, fall, or summer, men tend to dress right to secure their usual charm. Although only style-sensitive of them do just that, for others, it's what is within reach – from their wardrobes. And ultimately, those who don't care about their luxury and style tend to lose appreciating eyes more than ever. In short, they lack fashion all.
However, men should wear season-appropriate outfits to achieve both comfort and style regardless of the season. Especially in spring/summer, freedom is what you need from the raging heat. Luckily, spring and summer wear can help you find and ensure that liberty.
What's in Summer 2023?
This summer 2023, get ready to prep for the ultimate designer wear to top the earlier fashion epoch. Throughout the past years, fashion designers' creativity has aimed at giving fresh air via their new, wide-ranging summer/spring wear collection. However, any man who heeds the fashion cruciality will cling to the latest fashion styles to cope by renovating their wardrobes with summer staples.
In addition, a new emergence of Men's fashion articles decidedly renovates the traditional office wear into much more cheering summer office outfits. The new summer 2023 clothing trend has carried the same pattern of clothing, although it transformed its fabrics and colors to beat the summer while staying upbeat.
So, what's this summer trend all about? And how can one stay to the fullest in summer 2023?
In response to those speculates, here are the top men's fashion trends for this summer.
Top Men's Fashion Trend This Summer
Cutouts
Designers such as Nicolas Di Felice and Rick Owens unveiled their new summer 2023 fashion collection that broadly presents cutouts for men. Must-have cutouts of the last season are still hot pieces this summer. That's why one of the jazzy summer trend cutouts will still be in demand. For seamless summer wardrobe shopping, it must include cutouts. In the long run, cutouts of breathable fabrics maintain skin health and your fashioning flair steady.
Shorts
Whether or not it's summer, shorts are always in fashion. Shorts are an iconic and ultra-desirable style that every man must adhere to. They have all the trends this summer. Grab linen, cotton, or any breathable fabric-oriented shorts for your wardrobe and suitcase – lest you like to go on a vacation this summer. Pair your preferred branded shorts with any oil pastel tee to play it safe and classy. The best way to top this summer, stick with natural fiber shorts (linen, light cotton, and chambray). These fabrics help your body breathe and reflect light and heat.
Sleeveless Shirts/Tees
While the hot weather displays the temperature teetering for many, sleeveless shirts are fashioning a cumbersome comeback this summer. This is the summer style quite evident in street fashion – perhaps a cool look to grab hold of. Well-known brands such as Prada and Gucci have highlighted their summer collection – primarily including sleeveless top wear for men while being infused with the latest-technology patterns and threading. Meanwhile, workwear will delve into absolute Men's Polo Shirts. Invest in sleeveless polo shirts to keep it breezy during work hours.
Light Pants
Looking at the men's most casually preferred pants, they would go for denim each time. For formal, they would stick to cotton pants. Gladly, summery denim pants make a grand summer trend as they usually do in other seasons. Of course, casual means jeans – not just any jeans, but denim. Adhere to light denim jeans this season for utilitarian looks. Other than that, you can anchor breathable cotton pants for any formal setting. While the summer is rolling, make your urban look more versatile by styling light pants with sleeveless on top.
Bright Colors
Even though it's not the ideal summer wear if its color is more breezing than darker outfits – go with it. You can never go wrong with bright-colored outfits in summer. That's because the darker ones absorb more heat and make you feel like popping popcorn, which is why any bright-colored outfit that repels heat is the best choice, not to mention it has a summer 2023 trend. Look out for pastel hues this summer, although neon floral makes a seamless trend. Channel your chill vibes with bright and light pants and shirts.
Hawaiian Shirts
For fun-filled activities with your pals in summer, Hawaiian shirts are a fab pick. Our best choice? A Hawaiian shirt teamed up with light-hued cotton shorts. That's a decent pairing combo to hang out on a boardwalk or any other summery setting. A Hawaiian sleeveless shirt is the ideal summer wear for each classy man out there. Not for its loose fit or floral, but because it's more repelling to the heat. Grab a Hawaiian sleeveless shirt for a laid-back look and a look worthy of a snap. Even better, you may as finish off this look with sneakers or whisper sandals.
Guide To Dress Summer Fashions – When and Where
Perhaps a short teamed-up with a Hawaiian shirt is a nice outfit combo, but can I wear it to the parties? For any party, no, but for beach parties – sure. Every outfit unleashes an occasion-appropriate vibe. In the same way, it's ideal to know what to wear and when. Although it's somewhat an understood concept, we are here to elaborate on this to-do further.
For Beach Parties – Pair cotton shorts with a printed tee or Hawaiian sleeveless shirt.
Crowded Events – Go with urban formal.
Beachwear – Shorts or light jeans.
Vacation Casual – Light jeans with tucked/untucked sleeveless tees or t-shirts.
Road Trip – Button-down sleeveless shirt and light denim jeans.
Office Wear – Opt for a monochromatic sleeveless shirt with cotton pants.
Jogging and Walking – light tracksuits.
Summing it up
When the summer hits, it's normally time to anchor light outfits to stay upbeat. Having seen the summer 2023 fashion collection, they tend to include the best summer-friendly outfits, particularly to amplify our moods and skin health. We're obsessing over colorful and breathable garments this summer to look and feel ideal for summery endeavors. So, prep your wardrobe with summer trending essentials and feel and roll classy.
Apart from that, if you want to know about "How men's fashion has evolved over the years" then please visit our Lifestyle Category.