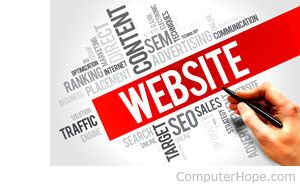 Last Updated on February 24, 2023 by admin
Running an internet business comes with its own set of difficulties. It's difficult to know where to begin when it comes to marketing your company because there are so many options. Often, business owners become so preoccupied with figuring out what to do next that it begins to damage the company's efficiency. It's critical to continue reminding yourself of your company's main goal. You will ensure that your firm performs at optimal efficiency if you do everything with your core strategy at the forefront of your mind.
Here are some pointers to assist you in making your online business more efficient. You can also take the services of experts from top-notch companies like YourDigiLab UK. They will guide you perfectly regarding the whole procedure.
1.CREATE EFFECTIVE LANDING PAGES
A landing page is a web page that is created to receive traffic from a specific marketing campaign. A landing page's goal is to convert visitors into actions like phone calls, sign-ups, downloads, and purchases.
Assume you're Macy's, and you're driving customers to your website as a consequence of a designer handbag campaign. The worst thing Macy's can do is send them to their home page. Directing the visitor to a page dedicated solely to designer handbags is a lot more effective strategy to increase sales. Consider it a way to cut out the middlemen.
• PROVIDE VALUABLE CONTENT
To rank your site in search engines, you'll need top-notch content and link building. Most organizations may be intimidated by content marketing since it involves time, thought, and planning. Make a weekly schedule to keep track of what you need to write, so you don't get behind.
• PROVIDE CALLS TO ACTION
One of the most common online blunders is failing to provide visitors with the tools they need to take the next step, whether it's completing a purchase or asking for additional information. Give them a big "purchase now" button if you want them to buy. Make sure that any action you want your visitor to do is simple for them to complete!
2. ADD IMAGES AND/OR VIDEOS
Take a look at your main page. Is there a lot of text? If no one in your firm is a skilled photographer, consider investing in professional photography. In most regions, a professional photographer can be hired for a few hundred dollars.
The videos are also really good. Create a how-to video, a product demonstration film, or a video of you greeting people. It should be uploaded to YouTube or another video storage site. After that, incorporate the code to post it on your site.
3. HAVE A CLEAR STRATEGY
Many businesses create a website because everyone else is doing it, but they fail to consider the website's purpose and how it will impact their business. The end result is frequently a nice-looking website that adds little value to the company. Have a clear vision of what you want to accomplish with your website before going online.
Do you want to utilize it to promote your products or services, reach out to new clients, sell your services, or communicate with existing ones? Having a defined goal in mind for your website will assist you in avoiding getting caught up in a slew of extraneous activities that don't provide value to your company. This will assist you in becoming more productive in your internet business.
4. KEEP THINGS SIMPLE
Limit the usage of distracting typefaces, colors, and GIFs, which can draw the viewer's attention away from the website's main focus. If the text is provided in brief paragraphs and bullet points, it is also more scannable and likely to be read. The length of each paragraph should not exceed six lines.
This is especially true in the case of mobile responsiveness, which is a key factor in Google's website ranking algorithm. The higher a website's search engine results page ranking, the better (SERP). If a competitor's website is mobile-friendly but yours isn't, you may be pushed down in search results for your clients.
5. IMPLEMENT SEO STRATEGIES
Off-page SEO is the process of improving your website from the outside. Concentrate on maximizing your social media efforts, becoming a guest writer on credible sites, partnering with relevant influencers, and link development.
To gain high-quality links back to your site, you'll need to use effective digital messaging. Google will consider your website more reputable if other websites with high authority link back to it.
6. MAKE IT MOBILE RESPONSIVE
Americans spend more than five hours each day on their phones, and nearly a third of them do all of their shopping online using a mobile device. Of course, your company's mobile website must give a positive user experience.
If visitors come to your site on a mobile device and find it difficult to read or navigate, they may choose to go to a competitor instead. Furthermore, a poor mobile user experience has an impact on your website's search engine rankings, making it more difficult for consumers to find your website through a Google search.
7. FIND WAYS TO REDUCE YOUR EXPENSES
It's not only about finding better methods to accomplish things when it comes to efficiency. It also gives practical suggestions for reducing wasteful spending. Examine your office operations to see if there are any areas where you could save money. Switching from standard fax to an online faxing system is a cost-effective office solution. This can help you save money on office supplies and consumables while also lowering telephone costs.
CONCLUSION
Your website is critical for generating leads for your company. Begin by managing your conversion path and guaranteeing high-quality content. When you optimize your business utilizing the simple procedures indicated above, you'll notice an increase in organic traffic over time.
Apart from that, if you want to know about What Does Your Ecommerce Website Need?, then please visit our Tech Category.