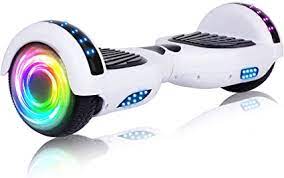 Last Updated on October 7, 2022 by Hammad Hassan
The hoverboard market is growing, so many companies have launched numerous accessories for all types of electric hoverboards to improve their performance at a really affordable price. You can find everything from silicone covers to prevent the hoverboard shell from scratching to carry bags or handlebars to use your hoverboard standing up to the style of the segway scooter. I recommend that you consult our hoverboard accessories section, where you will find a selection of the best-selling and most appreciated accessories by customers. See accessories
Hoverboard accessories
There are many models and brands of hoverboards today, and deciding which hoverboard to buy can be challenging. Below you will find the essential criteria you should evaluate before purchasing a hoverboard to choose the one that best suits your needs.
Automatic balancing system
Many people approach the world of hoverboards fearful because they think it is an electric scooter that is dangerous or difficult to handle. After all, it does not have a handlebar. However, this idea couldn't be further from the truth. The latest generation of hoverboards has an automatic balancing system that allows anyone to learn how to use the hoverboard in less than 5 minutes, even if they are an absolute beginner. New models arrive equipped with gyroscopes, mechanical devices used to measure, maintain or change the orientation of the hoverboard allowing you to maintain balance thanks to more than 100 measurements per second running this type of sensor. This system makes hoverboard handling a simple and fun task as applying a little pressure on the base of the hoverboard turns, accelerates or brakes in one go—a very natural, intuitive and automatic way.
Engine, power and speed
How fast do electric hoverboards reach? This is one of the most asked questions by those interested in this device, and its answer will depend on the engine type and its power. When it comes to the engine, we find two types:
The engine with brushes is the most common and cheapest.
The brushless or brushless motor is more expensive than the previous one. Still, on the contrary, it offers us more extraordinary power, lower consumption and longer life. It is the same as having no brushes; no friction is generate, and therefore, less wear cause.
How many watts of power do I choose?
It will depend on your needs.
More watts means more top speed and acceleration capability, which will be very useful on slopes greater than 10º. More power will also give you more sensation when riding a hoverboard, and if you like the feeling of acceleration and speed under your feet, I would probably opt for a hoverboard with more motor watts. However, there are some cases where they don't require a lot of engine power. If you are looking for a hoverboard for a small child or a beginner, you may be interested in opting for a device with less motor power that limits the speed and thus gives more safety while driving. As your child learns and grows, you may want to consider acquiring a more powerful hoverboard so that they continue to progress in learning balance. 
Comprehensive analysis
If you want to see less powerful and ideal models to give children, I recommend you visit our guide to cheap hoverboards, where you will find models of hoverboards with good performance at a very reasonable price.
Autonomy and charging time
When we talk about the autonomy of a hoverboard. We refer to the number of kilometres we can travel with it until we run out of battery. To make a good choice, you have to determine the use you will make of the hoverboard. That is, if the purpose is recreational or, on the contrary, you will use it as a means of transport. Suppose the use you make of it is recreational (playing with your children in the park), in principle. In that case, you will not be limited by the autonomy the hoverboard models offer today since they will provide you with a minimum of 1:30 – 2 hours of uninterrupted play.
However, suppose you are thinking of a hoverboard as your urban transport system. In that case, I recommend that you consult our guide to the best electric scooters or focus on the best electric bikes, where you will find models that meet your daily mobility needs (range, speed and acceleration) as most of the hoverboards in this article are designed for recreational use. Therefore, their speed and range are somewhat limited in exchange for a fair price. You must also take into account that the information provided by each manufacturer on the autonomy of the hoverboard is for particular conditions, and these are usually the following:
Plains
no wind
Driver weight approx.70 kg
Asphalt floor without holes
Driven at medium speed
So if you weigh more than 70 kg, your road has slopes. A bumpy road with bumps, or you like to go to the maximum speed limit, we recommend that you choose a powerful hoverboard that has more autonomy than you need a priori so as not to run out of battery sooner than desired. As a general rule, remember that lithium batteries give us more autonomy and weigh less.
Type of wheels
Wheel choice is something that many people don't usually take into account, but it is crucial when choosing a hoverboard. In general, you need to remember that the larger the wheels. The greater the ability to absorb potholes and tackle uneven terrain. With a 6.5-inch wheel, you have good damping. But if your road has any difficulties (potholes or uneven ground), I will opt for a revolution of at least 8 inches.
Classic hoverboard and segway
The classic segway is equipped with two mudguards that cover the entire wheel, thus avoiding unpleasant splashes and that in case of puddles, we end up with dirty clothes. Most are usually small hoverboards with 6.5-inch wheels.
Off-road hoverboard or SUV
On the other hand, the style Hoverboard They have slightly larger wheels without fenders, leaving the tire completely visible. This avoids some annoying noises (which we have with the classic style). And the possibility of stones or anything getting stuck between the fender and the wheel. Most tend to be large hoverboards with wheels starting at 8-8.5 inches.
Type of tire
You should also pay attention to the type of tire. A smoother tread will allow you to go faster, but in return, you will have less traction. So the use of these hoverboards will be limite to smooth surfaces and places with slight irregularities in the ground. Off-road wheels provide more traction and stability, thanks to the larger size and tread pattern. This allows you to traverse all types of terrain: