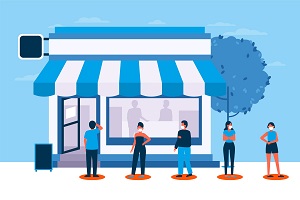 Last Updated on September 19, 2023 by Umer Malik
A digital Queuing Software in place comes with enormous benefits. It eliminates all the visitor's concerns about long queues and wait times, mainly in government offices. Local agencies, federal offices, banks, and more can utilize the queuing solution to streamline operations and use the resources efficiently.
Furthermore, their need is to keep sensitive data safe from any cyber attacks or theft. Here, the virtual queuing system assures a high level of security by keeping a check and providing information on who is entering or exiting the premises. This is vital for any government agency that focuses on staff accountability and overall safety.
So, let us talk in detail about how adopting a virtual queue management system can benefit both government offices and visitors.
Role of Queue Management System in Improving Security of Government Offices
Assures Theft Prevention
Data thieving is the one issue that every retail, corporate, or other sorts of venture faces. Usually, it happens when the administration has no control over its registration process. If they do not have a track record of who is entering the premises and when and for which purpose, the hassles will occur.
Luckily, the queue management system comes as a great help. It ensures the safety of authentic data and allows monitoring of the activities of everyday visitors. This will help streamline the workflow and improve organizational efficiency.
We all know government organizations hardly get vacations. There is so much work pressure and data privacy constraints to maintain. Pen and paper do not work anymore and cover the needs of safe data handling. The reason is the registers can get stolen or lost easily. On the other hand, digital data remains safe as it is deployed on the cloud. All the data is encrypted when imported or exported. The queuing solution's web server backs up everyday data and is easily accessible when required. In addition, SSO or single sign-on is provided by most of the queuing software.
Facilitates Reporting for Government Transparency
Integrating a virtual queue management system comes with great features that can help government agencies to stay transparent with the citizens. It provides reports for multiple departments. Also, it comprises the stats, specific data about agency location, and more. All of this helps to understand which office department has better performance. Furthermore, it helps to determine if all the branches are secure and keep an eye on who is coming and going on the premises. 
The government employees can measure and handle the citizen experiences via the wait time heat maps. Additionally, it can track which staff member is handling the queries, office security, queue management, etc.
Simplifies Bidirectional Communication
Communication from both the citizen and employee sides is essential. Integrating a queuing software comes with chat and messaging features. This enables the agents to reach out to the citizens via sending notifications, and messages, and sharing updates on their scheduled appointment.
Similarly, visitors can keep an eye on their turn via mobile devices, reschedule their appointments, or get wait time estimates.
Even the visitors can be notified by staff if they will be reaching late. This will help employees ensure the queue continues to move and others in the queue need not wait for long.
Provides Real-Time Data
The queuing software is a platform that can make any organization or agency run seamlessly and without hassles. The most significant advantage of all comes the real-time information it offers. For employees, it enables them to keep the visitors or people with online appointment schedules about what is going on on-premises, estimate wait times, and queue progress. Also, they can notify people about any changes in schedule or service delays via email, messages, or voice call alerts.
Integrates Effortlessly With Existing Government Systems
Mostly, queue management systems are cloud-based. It means integrating them with existing Government systems is possible with great security. Such software ensures no additional hardware is required plus the data is deployed safely from the systems to this cloud-based solution.
The integration enables the staff and supervisors to decrease service time. For instance, the solutions will ask the citizens for their ID cars to remotely sign-up. Further, the data will be stored in the agency's database once the identity card is scanned. All of this ensures great security and eliminates all the manual registration hassles.
The entire procedure is automated and saves sufficient time. Besides, there are many other common and widely popular integrations. These include easy integration with ERP, CRM, user identification systems, remote sign-ups, and more.
Ensure Faster Emergency Responses
There can be emergencies in government agencies. It means staying responsive is essential so all the safety and security standards are adhered to. The best way is to incorporate digital queuing software. However, manual systems only use security regulations to store visitor information.
The digital solution allows personnel to send alerts to every citizen within the establishment regarding an emergency. Furthermore, it ensures the organizations keep up with all the safety regulations.
Final Words
The Queuing Software assures overall security and transparency to the government organization. Of all, replacing the manual registration system with the digital one is beneficial. It comprises all the essential features like appointment scheduling, data safety, virtual queuing, and more. Altogether, these result in strict premises security and great visitor experiences. In simple words, it is high time to invest in a future-ready, digital, and comprehensive system to ensure a secure, reliable, and trustworthy government organization.
Apart from that if you want to know about "Online Video Verification: Combat Identity Theft" then please visit our Digital Marketing Category.