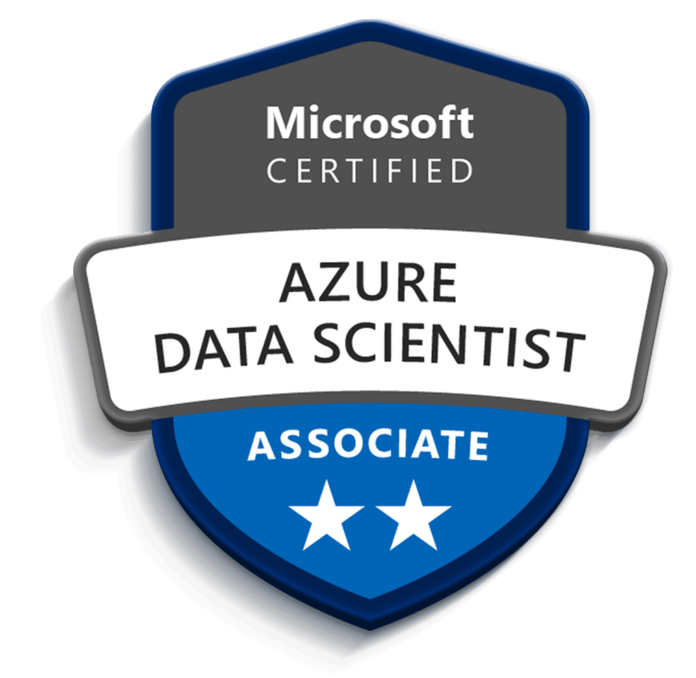 All frontiers of data, starting from data science, data engineering, and machine learning, are developing rapidly. This is because big firms are bringing innovations to the field of data science , and businesses are constantly utilizing data for their growth. The increasing need and upkeep of data is thus generating more jobs than ever before. If you want to penetrate the data science industry and take advantage of the job opportunities, DP-100 (Designing and Implementing a Data Science Solution on Azure) is one of the best data science certification exams programs offered by Microsoft.

This certification exam evaluates your ability to carry out technical responsibilities besides progressing models, performing feature engineering, and other skills.
Azure DP-100 Certification
The Microsoft Data Scientist Certification course is designed for individuals who want to progress in Data Science and ML. Microsoft certified professionals need to perform and execute machine learning workloads on Azure with Azure ML Service. This requires planning and creating an appropriate work setting for data science workloads on Azure.
The Microsoft certification is a self-paced learning process that offers a lot of liberty and flexibility. Having earned Microsoft certification training, you can work on Microsoft Azure efficiently and make models, track experiments, construct pipelines, and set hyper-parameters. You can also try data experiments with prognostic training models of ML.
Requirements for DP-100
Fundamental knowledge of python with working experience of at least 3-6 months can give you a leeway to prepare for the examination.
Fundamental knowledge of machine learning can help you with codes and ML question answers while writing the exam.
Experience of working on Jupyter notebook or Jupyter lab. Though not mandatory but it can make working on Azure easy.
Knowing Databricks and ML can help get better marks in the exam.
Must have knowledge in mathematics, physics, computer science, IT, or other similar domain.
Eligibility
This Microsoft certification course plans and executes a Data Science Solution for those candidates who aim to be an Azure Data Scientist Associate. The DP-100 examination requires candidates to have good experience in the following tasks:
Arranging data for modeling along with the methods to advance the models.
Explaining and arranging the setting of development.
Executing scientific precision and calculations to find out data and achieve actionable understandings. Additionally, candidates must also communicate outcomes to the shareholders.
Format of the exam
DP-100 covers almost forty to sixty questions about Azure data resolution. Candidates are provided 180 minutes to solve the questions, which is sufficient time. The questions for the exam include MCQs, case studies, as well as single-choice questions.
Since this cloud computing exam is proctored, you must prepare well for the exam. Besides, Microsoft alters the pattern twice a year, so it is ideal for assessing the updated exam format before you start to prepare.
Cost of the exam
The exam fee in India for this cloud security program is 4500 INR. If you live in the US, the MS Azure Data Scientist DP-100 exam cost is about USD 165.
How to prepare for the exam?
The primary task should be to schedule the exam date 30 days from starting your preparation; this can provide good motivation. There are many ways to prepare for the exam, but dividing it into two steps – Theory and Lab – can help immensely.
The theory, which is pretty detailed, needs a minimum of 1-2 weeks of preparation and evaluation. All questions from the theory section can be prepared from Microsoft docs. You can also learn from third-party learning platforms, books, and YouTube.
The certification exam can be overwhelming, so you must revise the theory before actual exams as it saves you from getting confused during the exam.
Practice labs at least once to get a grip on Azure workspace.
Register and apply for the DP-100 exam.
Ensure to test your laptop a day prior to the test, and it is recommended to use your personal system.
Conclusion
Microsoft online courses are pretty rewarding, and one like DP-100 could open attractive opportunities for you in the data science industry. The certification remains valid for two years, so prepare well, earn the certificate, and renew once it expires. Good luck!
Apart from this, if you are interested to know about Is it easy to clear the exam with CUET notes? then visit our Education category.