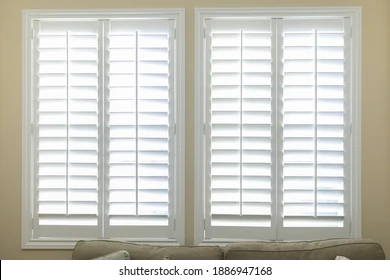 Last Updated on July 8, 2023 by admin
Shutters have a universal charm and add a different touch to every décor.
It can give the feel of a French café when colored in pastel shades and installed on bar windows. They can have a Plantation feel when installed on French windows. Custom Shutters can be the playful, classic installation in the kids' room if it is painted with vibrant colors or if you paint designs on them. They can be Faux Wood shutters that are installed in the bathrooms to give privacy while letting in ample natural light.
Shutters for All Seasons and Reasons
Generally, when we imagine shutters, we think of big houses, but shutters can be customized to fit any type of window in any type of room. So, if you are looking for economically viable alternatives for your office, instead of the traditional Faux Wood blinds, you can consider faux wood shutters. They take up less space as they fit into the window frame, they can be customized to suit the shape of the window, and their vanes can be slid open and shut to let in light or to create privacy.
Real wood shutters in the USA are mostly made with basswood or rosewood. These are treated to make them moisture-resistant and easy to maintain. Even faux wood shutters are made with premium quality PVC or vinyl that are specifically suitable for regions with high humidity. In both materials, shutters offer privacy, security, and insulation for the room. They also give greater control of how much natural light you want in the room.
It's for Every Window
Your room may have large bow windows, wall-to-wall Palladian, or rectangular windows, or it is a single casement window in the room. Just like custom blinds, shutters can be customized to fit any type of window. They can be added as a single shutter for a picture window or an even smaller dormer window.
Or, they can be added as a series of double doors for a wall-to-wall radius window. In fact, the shape of the shutter can be altered to even capture the arch atop the window. Plantation shutters fit in every room and for every type of window. They are the safe choice for many parts of the house, such as the window above the kitchen. They do not dangle or have cords that may get entangled.
Utility and Panache
When layered with other window treatments, shutters amplify the utility and panache of the window with their presence. If there are large bow windows, you can layer them with plantation shutters and Roman shades. For rooms with windows on multiple windows on different walls, one can choose custom blinds online and alternate the window treatments with shutters and blinds. It will give a uniform window décor for the room, add variety in terms of window styles, and there will be greater control of natural light, warmth, and cooling in the room.
Window shutters can also be added as a standalone cover without drapes or curtains. When they open, they become a piece of décor for the room, perfectly framing the window. They are long-lasting because, unlike drapes, they will not fade or wear out. It is easier to maintain – if there is dust, you can wipe it with a dry cloth, and for stains, one can use a damp cloth. If the shutter has been painted, when the paint chips or fades, a fresh coat can be added to keep it looking new.
The Versatility of Shutters
Plantation shutters are one of those window treatments that blend in perfectly with commercial and residential décor. You may have a modern décor or a classic décor, the plantation shutter can be customized to suit the ambiance you are trying to create. They are easy to use, and you have the option to choose between narrow or broad slats that can be slid open or shut at varying angles for efficient control.
The benefit of shutters is that they last long, and one does not have to worry about regular maintenance or changing the window treatment. even if you change the room color or décor, you can adapt the shutters to suit the new look.
Shutters Add Value to Your Home
Custom shutters not only enhance the beauty and aesthetics of your home, but they also add value to your property. When you install shutters on your windows, they provide an extra layer of insulation, which can help to keep your home warm during the winter and cool during the summer months. This, in turn, can help to lower your energy bills, which is a great benefit for homeowners. In addition, shutters are a long-lasting and durable window treatment option, so they can be seen as an investment in your home's future.
Conclusion
In conclusion, custom shutters are a beautiful and versatile window treatment option that can enhance the aesthetic appeal of any room. Whether you are looking for privacy, insulation, or control over natural light, shutters can provide all of these benefits and more. With a wide range of materials, designs, and colors available, shutters can be customized to suit any room decor and window type.
They are durable, low maintenance, and can last for years, making them an excellent long-term investment. So, if you want to elevate the look and functionality of your windows, consider adding custom shutters to your home or office today!
Apart from this, if you are interested to know more about The Beauty Of Home With Window Coverings, then visit our Home Improvement category.