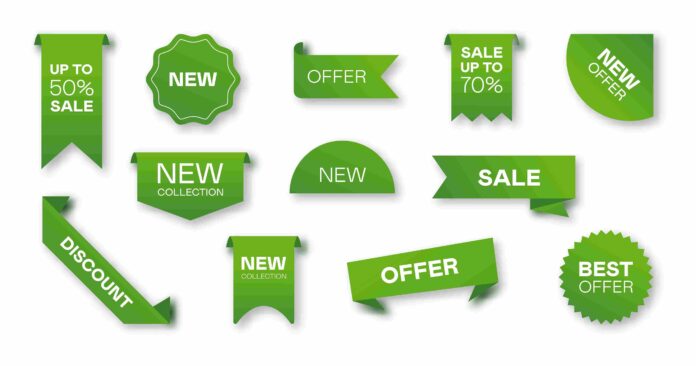 Last Updated on March 4, 2023 by admin
Stickers and labels are one of the best things you can use for branding. Its size, color, fonts, text, and everything impacts your brand. But do you know what the most important stage of choosing the right sticker for your brand is? It's the material you use to make it. If you use the wrong material, then the chances are that it might tear up or fade away from the product. This way, it will all go in vain.
In the sticker and labels market, there are different types of materials used for stickers and labels based on their application. In this article, we will watch out for different materials you can use for your applications, benefits, stickers, and labels.
To design your stickers and labels in your desired way, you can use a sticker design tool that lets you design the sticker with features like text, font, clipart, colors, etc. You can then print these designs on suitable material for the application.
Vinyl
Vinyl is one of the most used materials for stickers. It provides a slight stretch in the material to enable it to be easily stuck to both flat and curved surfaces. Vinyl stickers are very durable and feel smooth when touched. There are four types of vinyl materials:
Clear Removable Vinyl
Clear stickers are useful for multiple purposes, and their main benefit is that you can have a transparent background for your sticker. These stickers can be front or back adhesive to go inside or outside the glass windows. You can use white ink and a UV coat to give it abrasion resistance. Plus, these stickers are waterproof and very durable. You can remove these stickers easily without leaving any adhesive residue on the material.
White Glossy Removable Vinyl
Out of all four, this type is the most popular and versatile material. This material uses bubble-free air egress technology and has a strong adhesive to stay stuck on your applied surface. It makes the process of application easier than all the other types. Plus, this material is waterproof and durable. The best part is that one can easily remove it without leaving the sticky adhesive on the surface.
White Glossy Permanent Vinyl
In contrast to removable stickers, with this material, you can have the benefit of 'permanent.' These stickers are waterproof and outdoors durable. They are perfect for industrial use, like conveying a warning or safety labels. It is easy to apply, but like removable stickers, it is not bubble-free. It has a strong adhesive that ensures it sticks to the material permanently. This material gives a glossy look.
White Matte Removable Vinyl
If you are someone who seeks a matte finish in everything, then this type of vinyl sticker is for you. It gives a fine beautiful matte finish giving a more natural and aesthetic look. All the other benefits are the same as the above one. The only difference is the appearance.
After knowing all the types of vinyl stickers, let us know more types of stickers that you can use on different materials.
White Permanent Glossy BOPP
BOPP (Biaxially Oriented Polypropylene) is basically a plastic-based label material. This is ideal for labeling products that require durability and longevity. These stickers can resist everything, including water, oil, heat, abrasion, etc. This is the best type of sticker if you want to use it on applications that go under any above conditions. White Permanent Glossy BOPP has a glossy look that doesn't fade with time. It's a permanent adhesive and is best for industrial uses.
White Permanent Matte BOPP
Matte BOPP has similar benefits as glossy BOPP, except their appearance is different, and thus, their uses are different. Matter Bopp allows you to write on the stickers with pen, pencil, or markers. You can write information like expiry date, product name, etc. These stickers are waterproof and durable but have no lamination on them as the glossy ones do. This material results in giving organic look.
Clear BOPP
The clear BOPP has all the benefits of the white BOPP, but its background is transparent. It is a perfect material to show the packaging through stickers. If you want to provide customized stickers, integrating a product design tool can be handy! You can integrate into your e-store to let your customers design the stickers.
Holographic
These are innovative stickers that have incredible effects even at night times. These stickers are printed digitally with white ink and 3mil thick metalized vinyl, making them permanent acrylic adhesive. They are made with a highly reflective metallization layer through which you can see them even in a foggy environment.
Glitter
Glitter stickers are back in trend to add a pop to your artwork. These stickers are durable and provide high-quality results; they are made from holographic flake material to reflect all colors. These are available in permanent and removable types.
Sealing it Up
Now that you know about which material makes the best match for which application, you can buy the material wholesale from the manufacturer to save costs. Then you can use a sticker design tool to design the stickers in the desired way and print them easily on the sticker sheet. This is the easiest method to design and print your stickers hassle-free.
Apart from this, if you are interested to know about Wholesale Pizza Boxes, then visit our Business category.